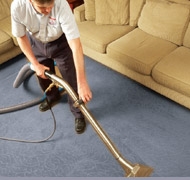 Daily vacuum cleaning is an important cleaning chore, in which dust and bigger dirt particles are being removed from carpets. However, to remove stubborn stains or embedded soil a professional deep cleaning should be carried out.
Carpet Cleaning Services
Hallway/Landing Carpet
Bedroom Carpet
Livingroom Carpet
Upholstery Cleaning – Armchair
Upholstery Cleaning – Sofa
Minimum call out charge £48.
All carpets should receive regular deep cleaning to maintain its look and keep its peak condition. Most carpet manufacturers recommend that carpets are steam cleaned. Today steam cleaning, also known as shampooing or hot water extraction, has proven to be the most efficient, and in the mean time safe for carpet fibres and dyes method.
We at House Cleaner London are devoted to our clients' cleaning needs, without forgetting our environmental responsibility. This is why we provide cleaning services based on hot water extraction combined with the use of non-toxic, biodegradable detergents.
The method of steam cleaning is classified as deep cleaning, since it is capable of removing soil deep into the carpet. It is extremely efficient on removing really stubborn stains. Another advantage of this process is that it facilitates the ability to extract 85% of water, thus leaving the carpets almost dry.
Because all odour sources are disposed of in the process of steam cleaning the carpet is left smelling good and fresh. As a final touch "Scotch guard" can be applied to protect it from future staining and damage of the piles. This is done upon request; however, a great advantage is that it can reduce the period necessary to our next visit.
Carpet cleaner & carpet cleaning service Dulwich, SE21 – London
Dulwich
The first documented evidence of Dulwich is as a hamlet outside London in 967AD, granted by King Edgar to one of his thanes Earl Aelfheah. Dulwich is also home to Dulwich Hamlet, an amateur football club set up in 1893 and still competing in the Isthmian League today. In recent years Sainsbury's acquired the site, built DHFC a new ground, and developed one of the largest Sainsbury's in the country.
Dulwich College
Founder's Day at Dulwich College is celebrated at the end of the Summer Term to commemorate the signing of the letters patent by James I on 21 June 1619 authorizing Edward Alleyn to establish a college in Dulwich to be called 'the College of God's Gift. The school has a very extensive archive, especially of material relating to drama and the arts, much of which is from Edward Alleyn's (the founder) own library.
West Dulwich
West Dulwich has two main parades of shops, the main one being on the Park Hall road junction, where Croxted Road becomes South Croxted Road. Shops there include Tesco, and a number of high end or independent shops. The other parade is on Rosendale Road which features more typical local shops.
Bailey Booth

If it was not for your amazing end of tenancy cleaning service, I would have forfeited my security deposit. Thank you for delivering such a wonderful cleaning session. I would not hesitate to book your service again.
Samuel Bishop

I needed help with the move-out cleaning so I booked your end of tenancy cleaning service. Thanks to the hard work of your cleaners, I left on good terms with my landlord. He loved the outcome and let me keep the deposit.
Mollie Kerr

Now I know that no matter how dirty and messy my home is, the professional cleaners of your company are here to save the day. Thanks to their great job every time, I have been a customer for so many years.
Mollie Connolly

I could never replace your end of tenancy cleaning service for another one. No one else can deep clean a property to such a high standard without me having to pay though my nose. I strongly recommend this company and their services.
Spencer Sheppard

I was looking for a professional cleaning service and a friend of mine recommended me this one. The housekeeper came exactly on time and did a wonderful job. It was thanks to him I was able to leave on good terms with my landlord.
Libby Spencer

The cleaning services of this company are second to none. My home looks amazing now and it is all thanks to the hard work of those cleaners. I do not think I can recommend this company enough.
Aidan Newman

I was recommended this company's cleaning services and I did not hesitate to set up an appointment. The cleaners were so kind and knew what I needed to be done. The service is very fairly priced which is another reason I loved it that much.
Harrison Carroll

I have been a customer of this company for over a year now and their housekeepers have never let me down. They are always so kind and hard-working. My home is in safe hands! I strongly recommend these cleaning services .